Caution: Dog Content Ahead
Sky says I need to post more dog pics. Never one to be quiet about my dogs, here goes!
This is not long after I got Parker (he was 1, Elly was 3). They were playing. Really. It's their usual, Parker flops onto his back so Elly can crawl over him and bite him. I called up his breeder a few weeks after getting home and asked if it was normal that they growled a lot while playing. She said that's just them being Terriers. They've really never even gotten in a fight, 5 years later. They are a great mesh of personalities. Elly is loving, assertive, and energetic, Parker is very sweet, playful, and laid back.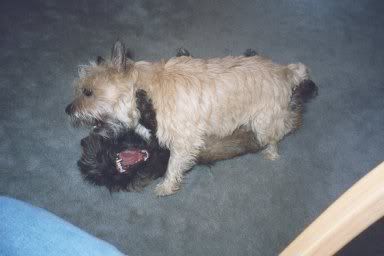 Morning hair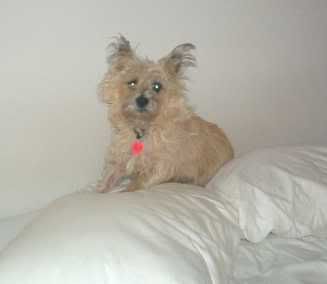 Parker tangled in yarn. He was funny. He was rolling around on his back with the yarn wrapped around his paws, having a great time.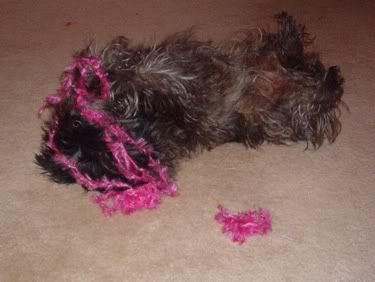 How are the NCAA brackets, everyone? Needless to say, I won't be winning any pools. I've already lost UConn and Gonzaga from my Final Four. Oops. But the Cats are in the Sweet Sixteen! Woooo! This has been a fun tournament so far. Unless you are a Kansas, Syracuse, UConn, or Wake Forest fan.