Saying Goodbye
I'm one who hates to see a man cry in public. There are two situations when it's okay: funerals and UK Senior Night. The last home game of the season is always a tear jerker, and it's been called one of the greatest moments in college sports. The two seniors this year happen to be unlikely best friends, the California guy versus small town Kentucky guy, the face of the program and star versus a bench warmer, and the tears started early with tributes each wrote to the other in the paper,
Chuck on Josh
and
Josh on Chuck


I'm rambling on because Chuck is one of my alltime favorites, and I am going to miss him a lot. He's a great player but even better person (with the best smile in the sport). I knew I'd cry. I had no idea he'd cry, and I can't remember a player getting more emotional. He cried during the pre-game ceremony. With about a minute to go, Tennessee had the ball and UK fouled so that they'd be able to pull Chuck and Josh out of the game to a rousing standing ovation. He and Tubby (the coach) embraced for what seemed like forever. After the game, Tubby kept the team out there while the band played My Old Kentucky Home, and Chuck lost it. I lost it. I cried again this morning looking at the photos. There's just nothing like seeing this 6'6 big tough guy crying like a baby in front of a crowd singing My Old Kentucky Home. I'm in tears just typing this because I'll never see Chuck at Rupp again.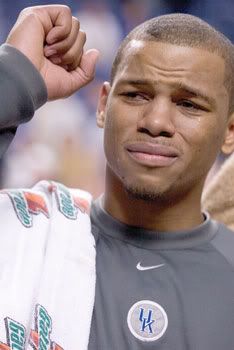 I'll miss you Chuck! But we have some more games with ya baby. Final Four, here we come!

Obligatory knitting content: I love Elsebeth Lavold's Silky Wool! It has such a nice feel to knit with, even though at DK weight on size 5 needles, it's taking forever! I'm using it for the Dreamy Turtleneck in the book Hip to Knit. The pattern calls for worsted but I thought Silky Wool would work really nicely so I'm adapting it for the thinner wool. I'm also doing the body on circulars so I can avoid some seaming and more importantly, use my new Addi's!