Honeymoon Cami Progress
I'm moving along on the Honeymoon Cami. I'd love to get it done by next weekend to wear to Keeneland if we go and if it's warm enough. April in Kentucky is so unpredictable!


Isn't it pretty? I love this yarn! It's
Berroco Cotton Twist
in #8338, and it comes in the prettiest colors with such a nice sheen. I was afraid it was going to be a nightmare to work with because the reviews at
Wiseneedle
are bad and others have said it's splitty but I don't mind it. It is loose and splits quite a bit if not careful but since I got going, I've had no problems.
I need to finish my Mom's Yoga Mat Bag this weekend but I only have a couple of inches left of the lace plus the strap. I still would love to finish Lucky by the end of the month but I wanted to try a couple of quick projects in between.
Elly got her stitches out yesterday! The vet said she is amazing (referring to how she was trying to run in the backyard like normal, just 2 days after the surgery).
Here's Elly, post stitch removal yesterday: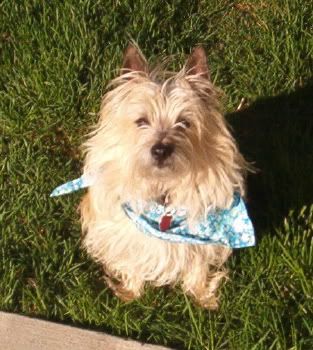 Compare to Elly post surgery last week!
I feel like Parker's been neglected so here's one of him from yesterday. He loves the warm, sunny weather. He may have taken Elly's surgery hardest of all of us! He is crazy about Elly. When I walked in the door with her after her quick trip to the vet yesterday, he began running around in circles, he was so excited.