The Race Report
Woohoo, my first race! I ran the Bluegrass 10,000 in Lexington, KY this morning! It's a 10K (6.2 miles) and I set a goal to run it in under 1 hour, 10 minutes. Yes, I'm slooooowwwww. That's an 11 min/mile pace. I ended up running it in 1 hour, 5 minutes! I was so thrilled with that time. It's a 10:30 min/mile pace exactly. I felt really good all the way through and was able to gun it near the end.
That's the short of it. Can I keep it at that? Of course not!!! Here's the long version (you'd think I ran a marathon or something!):
I wanted to run this race as my first because my Dad ran this race every year when I was a kid. It was great fun for us to come to Lexington for a couple of days every year because we stayed in the "fancy" hotel downtown. It was fancy in our eyes because it has an indoor pool, of course! It's a pretty big race with over 3400 registered. I wanted to run it last year but a stress fracture in my leg derailed that plan, and I never really got my mileage built back up until the last couple of months.
My Dad said he'd run but he didn't plan to register. He hasn't run much in recent months because of an injury and developing a love of bike riding too so he didn't want to push himself too much. We showed up at about 7:45 for the 8:00 race. My Dad hung out with me at the starting line even though he intended to move up at race time and start up with the faster people. I kept picking out people that I knew I could beat. The lady in the muu muu and white knee socks was at the top of my "can beat" list.
We heard the gun and headed to line up. We kept walking and walking, following the crowd, and suddenly, we realized that the race had started! He's run hundreds of these things and even he didn't realize that it had started. They started it a couple minutes early so we weren't prepared. Thank goodness for chips that only time from when you cross the starting line to the time you finish! My time from my watch was 3 minutes shorter than official race time because it took 3 minutes before I got to the starting line.
I said good bye to my Dad (who flew by me) and off I went. A couple blocks in, I was smoked by a guy pushing triplets in a stroller. Nice.
Here I am right past mile #1. I ran it in 10 minutes. My pace was probably a bit under that because it was so crowded and there were a few times I had to dodge strollers and rows of walkers 4-5 deep. It's my first race, and I've already developed pet peeves! Another one is a weird one: barbeque. There's a 4th festival downtown, and they'd just fired up the smokers at about a mile and a half in. Not good. Fortunately, the smell didn't linger long.


My Mom was the photo-taking machine. She's a runner herself but thought she'd sit this one out. A couple blocks past the barbeque, she caught up with me for another photo.

I missed the first water stop because I was too busy mugging for the camera. No prob, I was still feeling good.


Another 3/4 mile in, and I was hanging well with the top runners. Here I am with the race leaders at the 23 min. mark. That's me on the right, the leaders on the left.
No one needs to know that the top 3 racers were on their way back on an out and back course. They had a little over 1 mile left, I had almost 4.


From here to about mile 5, it was relatively uneventful. There were people cheering for you and standing in their front yards with their water hoses out to spray you off. It was hot and humid! My Mom was no where to be found with the camera so I managed to make it through a couple of water stops. I did the turn to come back into downtown and a lady yelled out at the big group of us, "it's all downhill from here!"
Liar!
Even I knew that the worst was yet to come! It's not a course full of steep hills but it has gradual very long inclines in several spots. Real runners tell me it's a tough course. I knew that once I hit about mile 5, it truly was downhill. My Mom met me at about 4 1/2 miles and ran the rest of the way.
My Dad met up with us at Mile 5 to run the rest of the way in. My Mom and I theorized that he wasn't running as well as he'd wanted and was using me as an excuse.


I did get a few laughs when I posed with Mile Marker 5. It probably cost me 6 seconds. More below on that.
Here I am crossing the finish line. Ignore the time there, this is the time from when they fired the starting gun. My official time is about 3 minutes less, judging from the times called out at the mile markers. I felt good at the finish and even sped up for the last couple blocks. I didn't hear a thing at the finish line. I was in a zone! My last mile was at a 9-something pace which is really fast for me.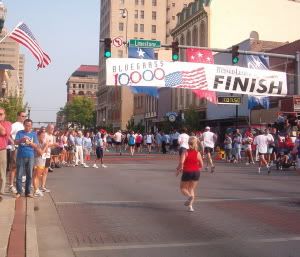 I finished in 1 hour, 5 minutes, 6 seconds. If I wouldn't have mugged for the camera a couple of times and posed with the 5 mile marker, I probably would have beat 1:05! But I had fun and beat my goal by almost 5 minutes so I'm thrilled.

Here I am posing with my Dad after the race. I must be proud of myself if I'm posting this frightening post race photo!