Let the seaming begin...
Woo! All the pieces of Lucky are finished and blocked (except the 62" tie, I'll work on that off and on) and seaming has begun! Seaming this baby isn't going to be fun. I'm trying to go slowly to make sure it's very well done. I have to say, raglan sleeves are sooo much easier to seam than set-in sleeves.

I went to the library last night and while there, checked out the selection of knitting books. I came across Vintage Knits. I almost bought this from Amazon a couple of months ago. I love vintage inspired clothing and was taken in by the lovely lacy camisole on the front. After looking through it that I'm think I'm glad I didn't buy it. I'm not sure I'd wear many of the things in the book. Some of the details are very vintage but the shaping really wasn't. I do still love the lace camisole (but again am not sure I'd wear it) and a couple of the cardigans were nice. Sometimes with books though, I don't like a lot on the first go through but they grow on me. Maybe that will be the case with this one.

Since there are no knitting pictures tonight, here's one of the act of animal cruelty I commited earlier in the week. Bathtime makes for two very pathetic Cairn Terriers.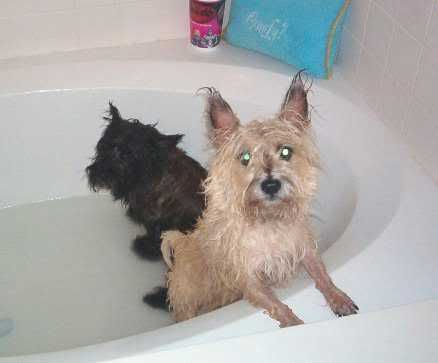 Off to watch the American Idol results show and to work on seaming. Please let it be Scott voted off tonight.